What's Happening in Maths?
Term 3, Week 9
Make no Math-stake about it, St James Students are working hard!
Across all year levels, students have been working tirelessly throughout the term in all areas of the curriculum but none more so than in Mathematics. 
Here are some examples of the quality work taking place in the juniors.
In Year Prep, Matthew Zheng and his fellow learners are working on partitioning numbers like 5 e.g. 0+5,1+4, 2+3, 3+2, 4+1 and 5+0. Great job Preps!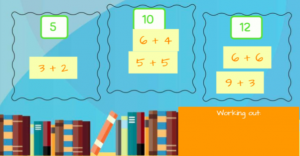 In Year One, Connor Jordan and his classmates are ordering, problem solving and adding small amounts of money. Take note! Working with money makes a lot of 'cents' and it is good to see the students are 'spending' their time wisely!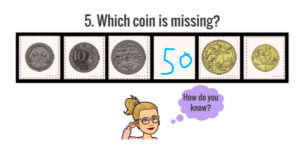 In Year 2, Mia Matene and her peers are working on multiplication with a focus on repeated addition, groups of and arrays. Nice job year 2!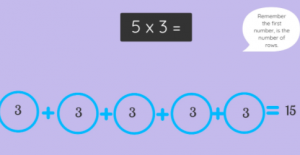 Keep an eye out for some great work in the middle and senior year levels in the upcoming newsletters!
Term 3, Week 7
Maths Fun!
Junior
Middle
Senior

Marcus records the colours of 12 cars that pass the post office. He notices that they are either yellow, black or white. He also notices that there is an equal number of cars with each colour.

The first 8 are: Yellow, black, yellow, white, black, black, yellow, black.

What colours must the last 4 cars be?

Lin is placing 34 cakes into boxes.

Each box holds 5 cakes.

What is the smallest number of boxes Lin needs to hold the cakes?
Answers
Junior: $21
Middle: 3 white and 1 yellow (Hint: There were 4 of each colour)
Senior: 7 boxes
---
Term 3, Week 3
You've gotta be in it to win it!
Over 60 St James students in years 3-6 have signed up to participate in the upcoming Australian Mathematics Trust Competition which is a fantastic result. 
However, due to remote learning the Australian Mathematics Trust has decided to postpone the event for Victorian schools with the new dates being 27/8 to 2/9. 
So what does that mean for us? 
We get more time to practice which is great so if you are needing a challenge head to the following site for more information and practice questions https://competitions.amt.edu.au


---
Term 2
Gotta be in it to win it! 
St James students in years 3-6 will be given the opportunity to compete in the Australian Mathematics Trust Competition. We have competed in the event over the past few years and have achieved some amazing results, most notably Dulain who finished in the top 0.2% in all of Australia for his age group in 2019.
We encourage you to talk with your child about competing in this year's competition. The entry fee is $6.50 and is due back no later than 24/6/2020.
Feel free to check out the following website for more information and practice questions see the following website https://competitions.amt.edu.au
---
Term 1
Mathematics is off to a flying start at St James! 
Across all year levels, student data from the beginning of the year testing days is being analysed to choose skills and concepts each child needs more work on in the area of place value. 
In Year 2, Jacinta is teaching a child how to use the place value houses to read and write numbers. The learning community also worked on making numbers with bundling sticks as part of the Year 2 place value unit.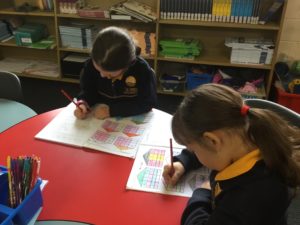 In Year 6, students are reading, writing and comparing decimals. Some students are even placing decimals on a number line.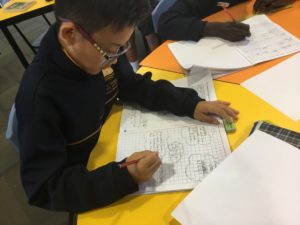 In Year 1, Karanveer, Nandini and their classmates are looking at making a number then saying the number which comes before and after.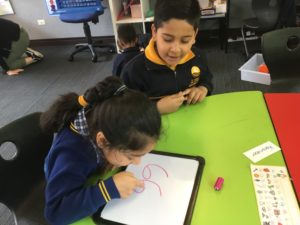 Ask your child what Mathematics they have learnt so far this term!