We are in Phase D of Victoria's Roadmap towards an easing of COVID restrictions.
All learners have returned onsite full time.
Face Masks
All learners in Years 3 to 6 must wear a fitted face mask when indoors at school.
All staff are also required to wear a face mask when indoors, including when teaching.
Other adults who come onto school grounds should wear a mask, as physical distancing is difficult around children.
Check in and Vaccination
All visitors to the school (including parents who enter school buildings to pick up children) must check in using the Service Vic app on arrival. QR codes are located at the entrance of and in Wominjeka (Administration).
Anyone working with children, including volunteers and parent helpers, must be vaccinated. You will be asked to show your vaccination status when signing in.
Assembly
Assembly is now taking place in-person on Fridays at 2:30pm.
You can stream assembly via Facebook.
Managing COVID-19 cases
It is the parent's responsibility to notify the school if their child tests positive to coronavirus.
Once the school has been notified:
Identify: Education contacts (also known as 'close contacts') will be identified based on the risk matrix from Department of Health.
Contact: Affected parents will be notified by SMS to collect their child from school. If we receive notification outside school hours, we will usually email in the first instance. Some parents may receive a phone call if there is no further response.
Test: All education contacts must be tested at a testing centre within 24 hours and kept at home (isolate) until receiving a negative result.
Email: Parents must email a copy of the negative result to Mary and wait for a return email confirmation before sending their child to school.
RAT: Education contacts who test negative should complete rapid antigen testing for five days following the result.
Rapid Antigen Testing
All education contacts are strongly recommended to complete rapid antigen testing.
Education contacts will receive a pack of five tests from their state-run testing location and should be completed on school days in the morning before attending school for the week after receiving a negative PCR test result.
Any learner or staff member who returns a positive rapid antigen test result must immediately get a standard PCR test.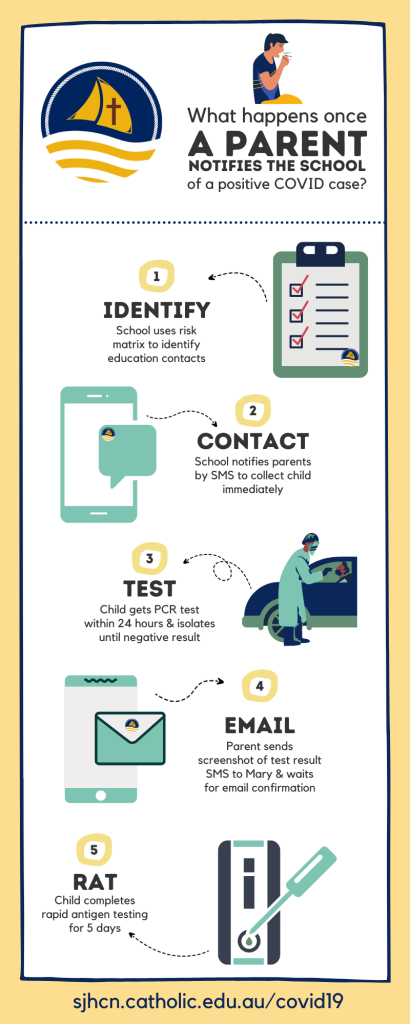 ---
Updates
New after school procedures  (emailed 29 October)
Next week will be the first time all learners will be onsite together since July. As a school, we have a responsibility to ensure that COVIDsafe measures are in place for all members of our community. The use of the pick up zone as part of dismissal procedures has previously been a place of congestion, with staff and learners standing near car fumes, with little physical distancing.
Changes to pick up procedures
There are changes to the dismissal procedures for the end of the school day. These changes will take place from Wednesday (3 November):
At 3:00pm, the Play Plaza gates will open for parents or carers to enter and meet their children near learning spaces if they wish.
When the bell rings at 3:05pm, all learners will continue to be walked to the Play Plaza by their teacher.
The pick up zone will not be in use.
Learners who walk or ride home will proceed directly to the two external front gates that lead to Kingston Boulevard or Sycamore Street.
Learners who need to walk towards Sycamore Street, need to exit from the school gate closest to Sycamore Street so they do not need to cross the school driveways and exit where cars are travelling. The same is required for learners who need to walk towards Kingston Boulevard.
School staff will be supervising crossings and school gates to ensure learner safety.
Parents or carers who park their vehicles in the school car park will be able to walk to the Play Plaza to collect their children.
The school gates and Play Plaza gates will be locked at 3:20pm. Learners who are not picked up from the Play Plaza at that time will be taken to the school office area where parents will need to collect them.
Respect for school community members
The time after school is a busy and congested time in the school carpark and on Derrimut Road. Many cars park too close to the school gates, in no standing areas or block the exits from the school. We ask you to be considerate of each other and of all members of our school community, including learners and staff.
Walking to the school gates
In the last few weeks since children have returned to onsite learning, there has been a high level of independence with learners from all year levels walking to the exit gates. This has worked well and should be encouraged. Staff will talk to those learners with siblings about gathering as a family at the front gate they are exiting from if they are walking or riding. Please reinforce this message if you have more than one child at St James.
I encourage our learners to continue to develop their independence and walk out of the school to meet their parents or carers at the external gates. We are very lucky as a school to have a carpark onsite however this will become congested very quickly.
Safety for everyone
As I am sure may have seen, many of our parent community gather closely at the school gates. I ask you to follow physical distancing directions and discuss with your child where you will be waiting so that learners can exit the school easily and safely.
Parents, carers and anyone over the age of 12, who come on to the school site (indoors and outdoors), need to wear a face mask. Face masks must cover your mouth and nose.
Before school procedures
Please note that the drop off zone will still operate in the morning as normal before school begins. The drop off zone is a free flowing area before school with little congestion. Many of our learners are walking into school from the external gates before school.
Parents and carers will be able to walk their children into school but are unable to go into learning spaces at this time. School staff will be supervising crossings and school gates to ensure learner safety.
I know that this will be a big change for many in our community, but it is important that we do all we can to keep learners, staff and families safe at school.
If you have questions about this process, please contact me.
We look forward to seeing everyone back at school on Wednesday.
Take care and stay safe,
Mary
---
Managing student illness in schools during coronavirus
Updated: 27 May
One of the most important things we can do is to stay at home when we are unwell, even when we have the mildest cold or flu-like symptoms.
This is especially important for learners continuing to attend on site at school.
The factsheet has been developed by the Department of Health and Safer Care Victoria and contains information for parents and carers that:
if a child is unwell, even with the mildest symptoms, they must stay home
if a child has any of the listed symptoms of coronavirus (COVID-19), however mild, they will be sent home and should be tested
a child must stay at home until they are symptom-free, even if their COVID-19 test is negative
children do not need a medical certificate before returning to school.
Face masks in Victoria
Updated: 29 November
Victorians should wear a mask when unable to physically distance, they have any symptoms, or with people who may be vulnerable to COVID-19.
Masks are required indoors at retail, health, care and justice facilities, at primary schools, and on public transport/taxis/rideshare.
Staff still need to wear a mask when not in the act of teaching.
Learners in Years 3 to 6 must wear a mask when inside at school. It is recommended, but not compulsory, for younger learners to wear a mask when indoors at school.
Adults who have a medical condition – including problems with their breathing, a serious skin condition on the face, a disability or a mental health condition – are not required to wear a face mask.
More information about face masks is available from the Victorian Government's Coronavirus website.
Thank you for your support in limiting the spread of COVID-19 and keeping our school community safe.