Writing inspiration in the form of a festival
09 September 2019
What do you get when you send ten students to Melbourne's State Library? A place where they house some very old and very valuable books. Now imagine adding two amazing authors. What do you get? A fantastic day filled with laughter and inspiration.
This was the day experienced by some of our lucky Year 5 students when they participated in workshops for the Melbourne's Writers Festival on 4 September. What started as a morning trip in on the train, soon became a day where the students were entertained with stories and anecdotes from authors Andrew Daddo and Felice Arena.
Andrew Daddo (yes that Andrew Daddo) led the workshop, It's a Pirate Life for Me. Daddo had the students enthralled with stories from his childhood and what inspires him. "He was funny and had good stories, " reported Micah from 5Blue. "He told us stories from when he was younger, like when he loosened the wheel on his brother's bike just before he went in a riding competition." Jett, also from 5 Blue noted, "He told alot of dad jokes and he talked about a character who is like Donald Trump but he wears diapers." He gave the students a sneak peak at his new book, Attituc Van Tasticus, which the students highly recommend.
The students then had the privilege to spend some time listening to Felice Arena. Arena is the author of much loved books Specky Magee, Fearless Fredrick and Wish. He shared stories about what inspires him, his writing process and stories from his past. One such story that entertained the crowd were the many different pronunciations his childhood Principal had for his name. He talked about his new book, A Great Escape, discussing the process he went through to create a story set in the past. Maddison from 5 Brown said, "It sounded really interesting. It was about the war and how a child survives." Raquel also from 5 Brown was so engaged with Arena's talk that she went out days later to purchase the book so she could read it straight away. "I read Great Escape and it connects well to events that happened in Germany in World War 2. It gives you an idea of what the people went through."
Already the inspiration the students gained from this experience has influenced their writing. Some students feel that they are already including more detail around their characters in their writing, while others are keen to start a Book Club at school and read The Great Escape. Raquel summed up the day perfectly when she said, "It is guaranteed to entertain you and make you think."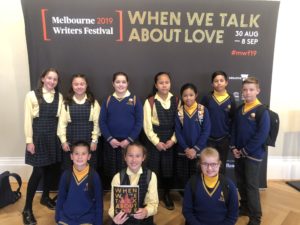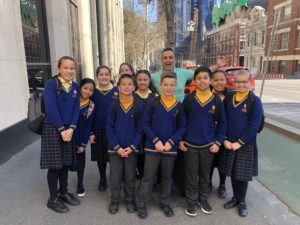 < Back to Articles