Art Show creativity celebrates God's creation
26 August 2019
Through a reading of Genesis, Catholic Tradition teaches us that all of God's creation is good. Our learners celebrated this goodness by creating artworks for our 'Days of Creation' themed Art Show.
Every learning community was engaged in developing a different aspect of each of the seven days of creation showcased in this year's Art Show on Tuesday 13 and Wednesday 14 August. This also provided a logical sequence for the Art Show walkthrough.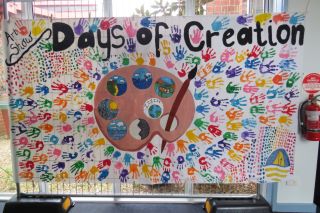 "I definitely feel that learners at St James gained a great appreciation of art by learning about other artists and using them for inspiration, by experimenting with a wide variety of materials and techniques and seeing what is possible by viewing work displayed from all year levels across the school," said Delwyn Castellano, one of the school's visual art teachers.
Over the course of the semester, every student creating at least two items for the art show – one two-dimensional and one three-dimensional piece – by worked individually or in groups.
Some of these artworks were inspired by ideas from different cultures and indigenous or other famous artists.
Inspired by Alberto Giacometti, a 3D sculptor
Inspired by New Zealand sculptor Michael Parekowhai – Year 5 mixed media collage incorporating a musical instrument and an animal
Year 3 Tribal Masks
Inspired by Henri Matise's 'Scissor Painting' –exploring dark and light, positive and negative space
"Wings" created by all students
"Put Yourself In The Picture" – painted by groups of Year 5 and 6 students
"Put Yourself In The Picture": Johannes Vermeer's "Girl With A Pearl Earring" painted by groups of Year 5 and 6 students
"Put Yourself In The Picture" – Leonardo da Vinci's 'Mona Lisa' painted by groups of Year 5 and 6 students
---
Some of the techniques used included collage, printmaking, 3D construction, watercolour painting, air-dried clay, marbling, papier-mâché and puppetry.
Year 4 Chatterbox puppets
Year 1 Paper bag fish collage
Year 2 Papier-Mâché Animals
Visual arts teacher, Jess Naidu, commented that, "It was exciting to see the final display of the huge amount of work that the learners had completed throughout the year. The school was filled with colour and there was a buzz of excitement as students began to journey along the 'Days Of Creation' art show walk. They loved seeing their pieces on display and were very proud and eager to show teachers and their families their artistic achievements."
School principal, Mary Abbott, was excited about the way that students engaged in the experience. "It was great to observe them reading about the days of creation and explaining to their parents about what they had done," she said.
< Back to Articles