A fond farewell after 25 years of support
28 November 2019
At the end of this year, the St James the Apostle School community will say farewell to someone who has become an important pillar of our school family.
After 25 years of service to the community, Regina McGinn has announced her retirement from full-time work and her role as Learning Diversity Leader. Although the role has changed name over the years, along with changes in the educational landscape, the focus has always remained – giving every child the support they need to fully flourish in their time at our school.
Generations of families have relied on Regina to access the services needed to help their children with additional needs, while many teachers and learning support staff have picked Regina's brain about how best to help their students achieve their best.




I have known Regina for 20 years. Dedication, compassion, integrity and kindness are the qualities that spring to mind when I think of her. Her diligence in her work with staff, children and especially the number of families, to whom she has given so much of her time and energy, has been exemplary and she will leave an enormous legacy at St James. She has been the instigator behind so many initiatives or at least helped introduce them to her work. And they have always been for one purpose – to improve the lives of children and families for whom she cares. I remember when she decided to become an Australian citizen, declaring her love and allegiance for her not so new country, while her German heritage was and will be, never forgotten. The difficulty of living on the opposite side of the world from her parents has been a constant concern for Regina. Yet, because of her supportive husband, Paul, and due to her loyalty to the St James community, time was granted for her to care for them. Regina goes about her work quietly and does not look for accolades. She is willing to ask for help and always grateful when it is given. When she goes from St James she will be sorely missed. Joe
---
Regina's warmth, confidence and humour, in a space that can be at times difficult and confronting, helped to make the process of identifying particular student needs and communicating them with families and professionals a compassionate experience.
While she farewells the school in her current role, we will still be seeing Regina around the school as she works with students in regular art therapy sessions.
---
Many readers will remember having a connection with Regina when you were students at St James, and your parents eagerly came in to talk to her about ways to further improve your learning. I certainly remember how dedicated and passionate she was about making learning easier and accessible for everyone all those years ago when I first arrived.

Times have changed. We've gone from SWPs, to ILPs to PLPs; we've gone from Arch lever, to Blue folders to Purple files. Regina may have shifted rooms a few times to accommodate building programs, or to get away from some awful smells emanating mysteriously from somewhere; she has alternatively shivered and sweltered in her room over the years, for the comfort of other teachers and parents; she has even suffered through a series of title changes, but she has never wavered from her devotion to the welfare of students. Mind you, I don't think in all this time anyone of us has ever pronounced her name correctly! (Hard 'g' not soft 'g' Typical Germanic exception to normal rules!)

Three generations will miss Regina and her immense experience, and we teachers, past and present, express our gratitude for her wholehearted support of children at St James. Brenda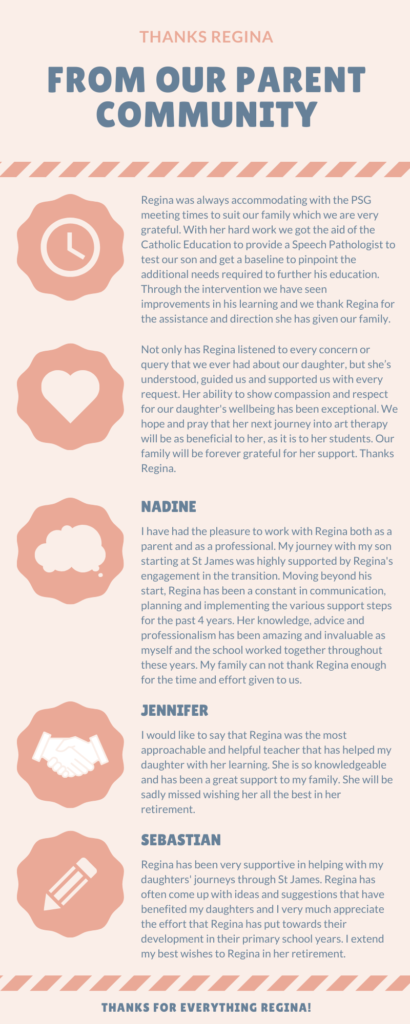 It was my pleasure working with Regina. The staff, children and parents all loved to work with her and coming to visit her in her office. She always had a positive attitude and always smiled. She will be sadly missed by everyone at SJA from the staff to students. Maria Scala, past deputy principal
Thanks for everything Regina and best of luck in this new journey!
< Back to Articles