What's happening through inquiry?
Term 3, Week 7
There's been a focus on animals in the Year 3 Learning Community, with learners inquiring into questions around the biological sciences.
Taylah and Miranda have explored how animals and plants have changed to meet their environments.


Science has also been a focus for learners in the Year 2 Learning Community. They have been exploring how we can use materials in different ways depending on their properties. There's been a lot of experimenting around sinking and floating! Some of these experiments were shared online.
Term 1, Week 8
We are very curious at St James!
Across the school we have been very busy wondering and finding out. We have been developing our researching skills and making connections with our own experiences.
In the Prep Learning Community, the children have been learning to demonstrate kindness, treat others respectfully and generate strategies for problem solving. We know that our actions and words have an effect on others and that we need to be mindful of others.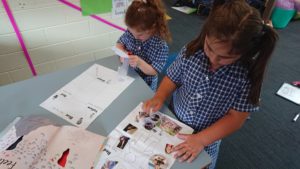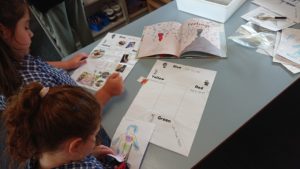 In the Year 3 Learning Community, the children have been doing a lot of work on emotions and self regulation. They have also recorded how they feel throughout a school day and how working together is beneficial. They have self reflected on their own journey, trying to visualise where they are in regards to what they are learning – The Learning Pit. The main focus is for the students to understand that learning is a journey and that there are ups and downs to that journey. Sometimes we might feel in the pit and then get out, but we might get back in the pit because we realise we haven't finished learning. We have tied this learning in with having a growth mindset – if we are in the pit, there are some things we can say to ourselves to assist us in getting out and keeping us on track with our learning.
The 'Taking Action' project is to create an advertisement to share what they have learnt and to share the importance of using the Learning Pit and the Growth Mindset to other children.





In the Year 6 Learning Community the children have focussed on working as a team and how to achieve together!
The students also went to the Australian F1 Grand Prix to help deepen our understanding of STEM (Science, Technology, Engineering and Mathematics). They had a chance to explore motion, sound and the mechanics of racing cars and so much more! The students were also lucky enough to see the F1 cars in action!