Learning during COVID-19
Victoria moved to the Last Step on Victoria's roadmap for reopening from 11:59pm on 22 November.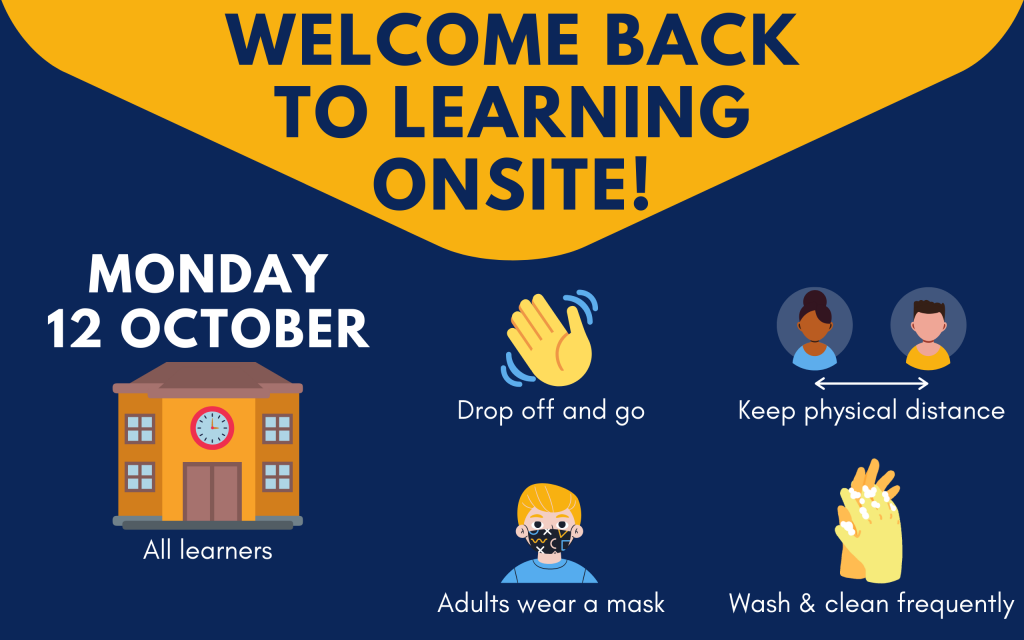 All learners in Years Prep to 6 have returned onsite from Monday 12 October.
On this page:
---
Virtual Assembly
This is our last Virtual Assembly for the year. We will gather in-person for our End of Year Mass and final Assembly on Friday 11 December.
---
Updates
Returning to onsite learning
---
Managing student illness in schools during coronavirus
Updated: 1 September
One of the most important things we can do is to stay at home when we are unwell, even when we have the mildest cold or flu-like symptoms.
This is especially important for learners continuing to attend on site at school.
The factsheet has been developed that contains information for parents and carers that:
if a child is unwell, even with the mildest symptoms, they must stay home
if a child has any of the listed symptoms of coronavirus (COVID-19), however mild, they should be tested
a child must stay at home until they are symptom-free, even if their COVID-19 test is negative
children do not need a medical certificate before returning to school.
The factsheet, developed jointly with the Department of Health and Human Services and Safer Care Victoria, will also be shared with general practitioners and other medical practitioners.
---
Face masks in Victoria
Updated: 26 November
Fitted face masks are no longer required in Victoria for people aged 12 and over when outdoors and where it is possible to stay more than 1.5 metres away from people.
Use of fitted face masks remain mandatory if you are unable to stay further than 1.5 metres away from people not in your household, such as when waiting at public transport stations, outdoor markets, walkways and thoroughfares. Face masks also remain mandatory when indoors – for example, in shopping centres or at a hospital.
You must carry a face mask with you, even if you do not need to wear it.
Staff still need to wear a mask when not in the act of teaching.
Students or staff who have a medical condition – including problems with their breathing, a serious skin condition on the face, a disability or a mental health condition – are not required to wear a face mask.
The Department of Health and Human Services website has advice about face masks, including:
which different types can be used;
how to make your own;
how to safely wear one; and
how to safely remove it.
Thank you for your support in limiting the spread of COVID-19 and keeping our school community safe.